What is Bleed? A printer's guide to bleed. In this guide we aim to answer the question what is bleed and why it is required, along with steps on how to add bleed to a document you have already designed. We finish the guide by showing you some examples of artwork without the correct bleed area and some instructions on how to correct them.
So…what is 'Bleed' and why is it important when it comes to your artwork?
Often your graphics will continue to the edge of a sheet of paper or card. When this is the case, 'bleed' is required. The simple reason is that a commercial printing press cannot print to the edge of paper. What usually happens is that lot of designs are printed on larger sheets of paper and are then cut down to size, and due to it being impossible to cut the exact edge of your design, a little 'overprint'  on each side of your print is required. Us printers call this overprint 'bleed'. All professionally printed documents require this 'bleed' area and a safe zone if the print runs to the edge of the document.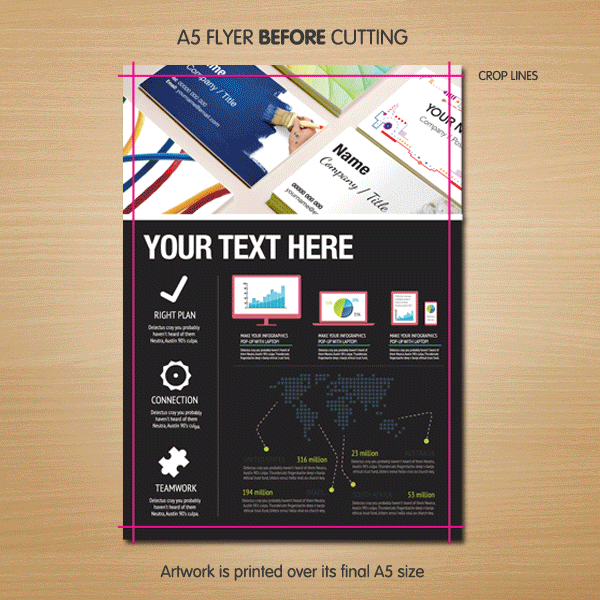 What about crop marks?
Crop marks are the marks that show the line that the guillotines must cut to. The bleed area is outside of these crop mark lines. We do not  need you to put the crop marks onto your artwork.
How much 'bleed' do I need on my document?
We ask all users to place a 3mm bleed across all sides of the document (this is the industry standard) – so for the length of the document, this would add an extra 6mm (3mm on the top, and 3mm at the bottom). This means, for example, that for an A4 document, the size with bleed would be 210 x 297mm, or for business cards, 91 x 61mm.
The safe zone – what is that?
It's an advised 3mm area inside the cutting edge. We advise no text, important information should be placed here, and any graphics within this area may risk being clipped when cutting.
Here's some examples on how your artwork should and shouldn't look like…
What your artwork should look like – showing bleed and safe zone: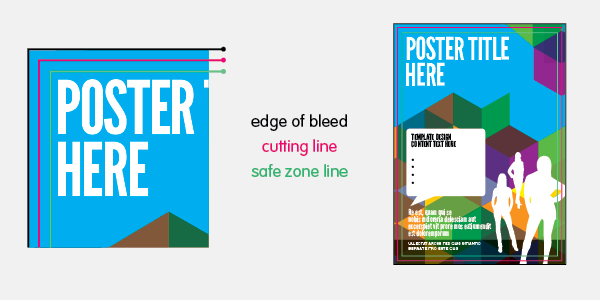 What your artwork should NOT look like:
No Bleed  / White Bleed Area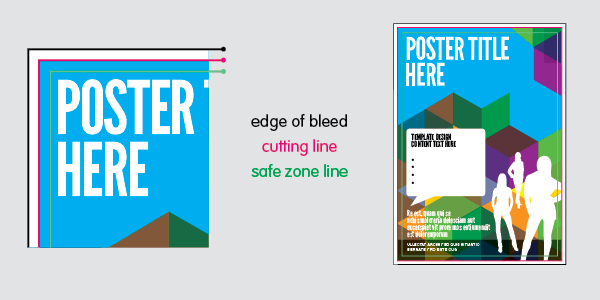 Text in Bleed Area / Safe Zone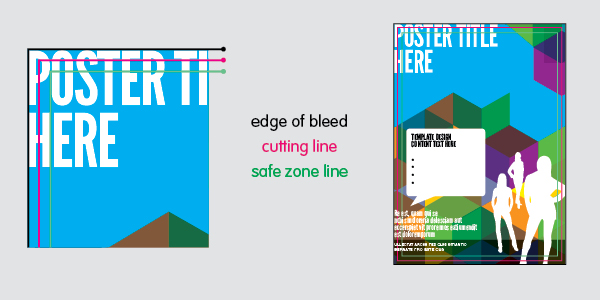 Text in Safe Zone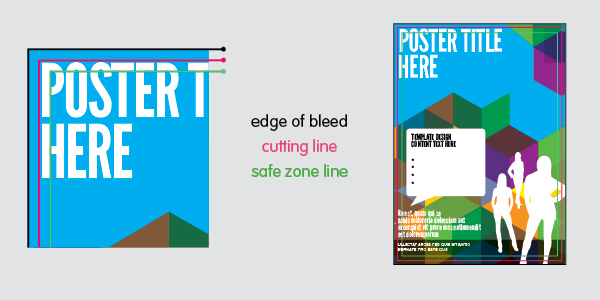 Bleed area is a different colour to the edge of the design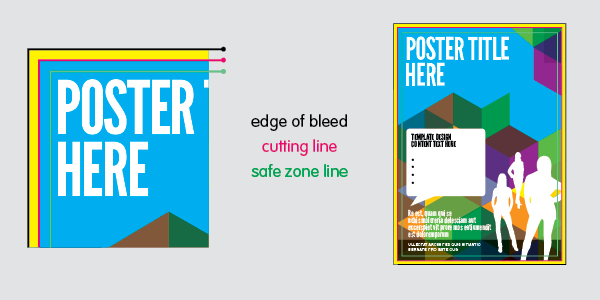 Design object touches cutting line but does not extend to edge of the bleed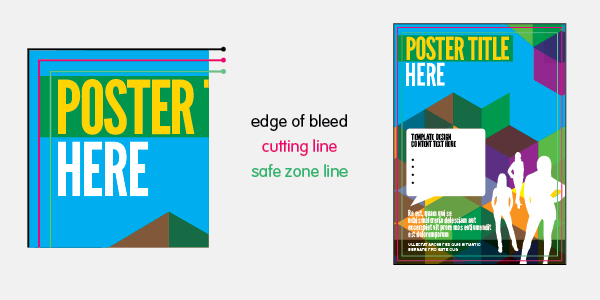 Design object halfway between cutting line and safe zone.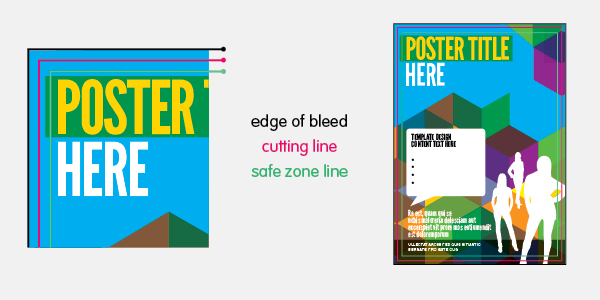 Design object does not touch the edge of the bleed area.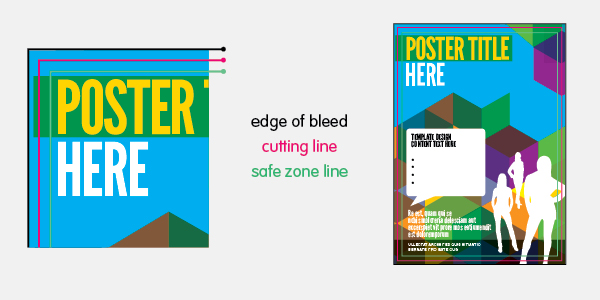 Not enough bleed in the document.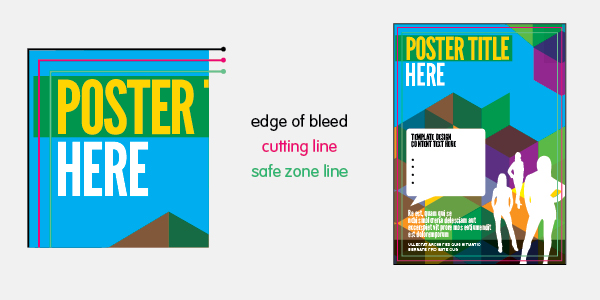 Oh no. It seems that I am unable to correct my document. What now?
There are a couple of options you could do:
We could print your document with a border – we use 6mm to ensure even borders on each edge.

Have the design professionally rebuilt. A professional graphic designer could rebuild this for you with correct bleed and safe zone. We have an in-house graphics team who will be happy to provide you a quote.
Ok, I get it now. So what are the sizes for my print document?
We've provided a table below outlining all the print dimensions for each of the products we offer (based on portrait orientation, at 300 DPI – Dots per inch. Learn about the importance of resolution here.)
Size Name
Size in cm

(without bleed area)

Size in pixels 300dpi

(without bleed area)

Size in cm

(with bleed area)

Size in pixels 300dpi

(with bleed area)

Business Card

8.5 x 5.5 cm

1004 x 650

9.1 x 6.1 cm

1075 x 720

DL / Comp Slip

9.9 x 21.0 cm

1169 x 2480

10.5 x 21.6 cm

1240 x 2551

A6

14.8 x 10.5 cm

1748 x 1240

15.4 x 11.1 cm

1819 x 1311

A5

21.0 x 14.8 cm

2480 x 1748

21.6 x 15.4 cm

2551 x 1819

A4

29.7 x 21.0 cm

3508 x 2480

30.3 x 21.6 cm

3579 x 2551

A3

42.0 x 29.7 cm

4961 x 3605

42.6 x 30.3 cm

5031 x 3579

A2

59.4 x 42.0 cm

7016 x 4961

60.0 x 42.6 cm

7087 x 5031

A1

84.1 x 59.4 cm

9933 x 7016

84.7 x 60.0 cm

10004 x 7087

A0

118.9 x 84.1 cm

14043 x 9933

119.5 x 84.7 cm

14114 x 10004