OK, this is a question we get asked about a lot, litho vs digital print. Normally people want to know if we can print litho? The simple answer is yes! Brunelone.com own a Heidelberg Speedmaster XL 75c lithographic printer. The truth of the matter is both litho and digital have their advantages and disadvantages. We find that many of our customers would like their products printed litho, because in they believe lithographic printing is "better quality" and that is simply not the case. However litho printing presses do out perform digital press in large areas of solid colour and in mid  tone greys.
If you take a close look at the picture above you will see a picture of a lady. Half her face is printed litho and the other half digital.

Loading ...

Loading ...
OK so it is not a fair test as you are looking at two different parts of the same image and not the same section. This is just a bit of fun to test your print knowledge. We will reveal the answer in the later of this post.
Generally speaking digital printing is more suited to short runs and litho longer. This is due to two factors speed and cost. For short print runs a digital press is cheaper to set up and fast to print, this is why we always print short runs digital. The lithographic press is more expensive to set up as plates have to be made, but can run at 15,000 B2 sheets an hour. Our HP Indigo 7500 digital press only runs at 7200 pages per hour.
We really need to move onto the Heidelberg Speedmaster XL 75c Vs HP Indigo 7500 as these are the presses we use at Brunelone.com. HP Indigos work differently to most other digital presses, as they are an offset digital press that use electrically charged ink. This makes them a far superior to other digital presses on the market and why Brunelone.com print quality is so good!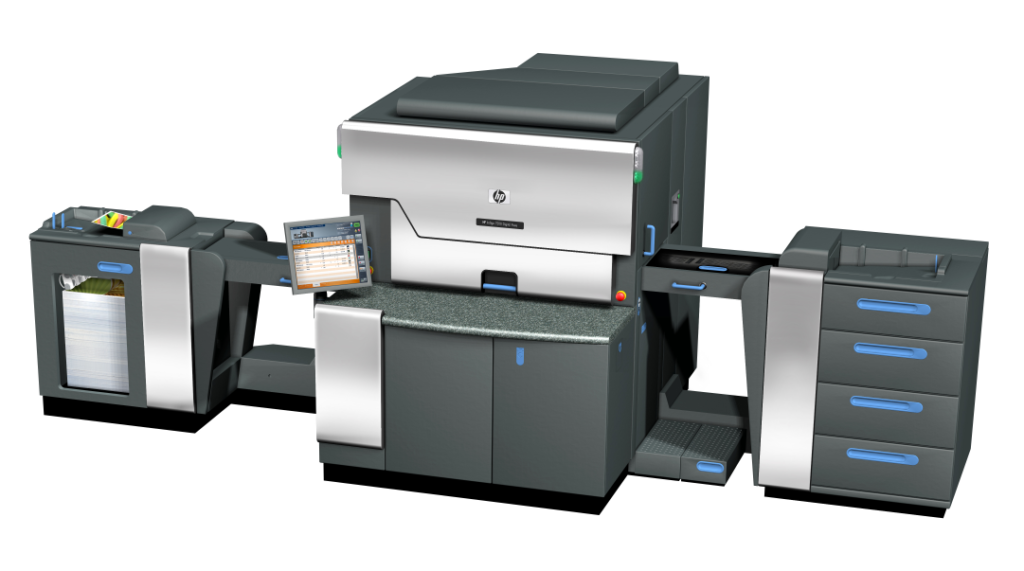 The HP Indigo press will also print one complete document. The litho press would print the total amount of page 1 then the total amount of page 2 and so on, but these pages can be ganged up depending on the finished size. These pages would then be collated away from the press using a collation machine.
Brunelone.com take advantage of having multiple printing solutions, as quality is no longer an issue we can pick the correct technology for each individual job based on the size of the print run, the weight of the stock and the turnaround time required. We make this decision based on all of these factors, this is how we can deliver very competitive prices compared to other less well equipped printing companies.
Paper Stock:
Lithographic presses can print on many more different substrates than a digital press. Even though the digital world is catching up as the technology improves. Digital specific substrates need a sapphire coating for the ink to adhere too. This is because the digital ink is not absorbed by the substrates. However there are now over 4000 different media substrates made by manufactures world wide, these include paper and plastics. These are HP Indigo certified substrates and need no additional treatment or coating, as the chemicals have been added at the manufacturing stage.
Paper Weight:
HP Indigo Presses can print on substrates from 70gsm to 400gsm, the Heidelberg can print from 30 microns right up to 800 microns (0.03mm – 0.8mm).
Production Time:
As stated above production time is dependant on the length of the print run. The digital press is used for short print runs as it requires less setup time and no plates to be made, but runs at 7200 SRA3 sheets per hour. The litho press can run at 15k B2 sheets per hour so is used for large print runs.
Quality:
There are very few differences today between the digital press and the litho press, where quality of print is concerned. However for large areas of solid colour, some gradual gradients and some mid tone greys the litho press would be the press of choice. But the average person would A. struggle to tell the difference and B. recognise a difference in quality.
Cost:
The difference in price between litho vs digital print relays to the length of the print run. Shorter print runs are cheaper to print digital. Longer print runs are cheaper to print lithographic. Very long commercial print jobs are much cheap to print litho.
Print Colours:
If specific Pantone spot colours are required, we would always print litho. However the HP Indigo can colour match 97% of the Pantone colour range. We also have a white ink module of the HP Indigo that means we can print white ink on black card for instance. Both presses use the 4 colour CMYK process, the litho has an extra module for 5 colour process and the Indigo also has additional modules for white ink etc.
Original Artwork Quality:
HP Indigo digital presses are a little bit more forgiving than the litho presses, they can print an acceptable image quality from a resolution as low as 150 dpi. However you only get out what you put in! Brunelone.com always recommend a 300 dpi image for print especially for litho printing.
Overprinting:
Historicity you were not able to overprint artwork that had been through a digital press. The artwork would go through an office printer for example on a letterhead and the image would be melted. With the advance in technology the HP Indigos do not suffer from this problem as they use a heat resistant ink.
Variable Data:
Digital printing enables the use of variable data. For example you can print the same artwork but change an aspect of the design. This is helpful for direct mailing campaigns, where the name and address changes for each design. Or for something like wedding invitations where the customer would like different names printed on each invite.
Poll Answer: Left is Litho – Right is Digital