2017 is the year for sensory print. The year that high-end print finishing techniques are available to the masses. Most of these bespoke finishing techniques have been around in the print industry for a couple of years, but only now are they being rolled out to the masses. With anything design orientated, the best business cards 2017 are going to be subjective, but these are the business cards we think will top the charts in 2017.
1. Scodix Business Cards
What is Scodix? Scodix is a 3D UV gloss printer. The difference between Scodix and Spot UV is that the Scodix is printed onto the paper/card, and spot UV uses a Cyrel® or plate.
What the advantages of Scodix? As Scodix can be printed it has a hight range, this range is from 0 to 250 microns. It also have a range of gloss units from 0 matt – 99 GU (gloss units). The density of the 3d coating also has a range from 1% to 100%. All of these ranges combined give you a lot of flexibility in design.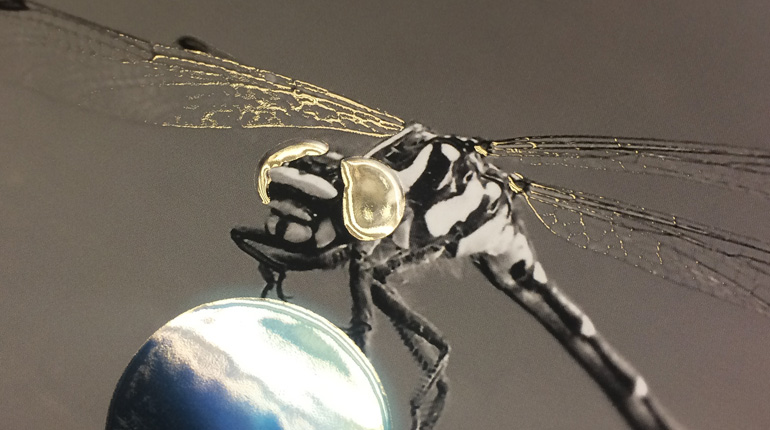 Scodix can be use in extremely detailed ways but this next card tops the minimalist category.
---
Backhouse Housing Business Cards
Printed on 400gsm Card, Matt Laminated & Scodix.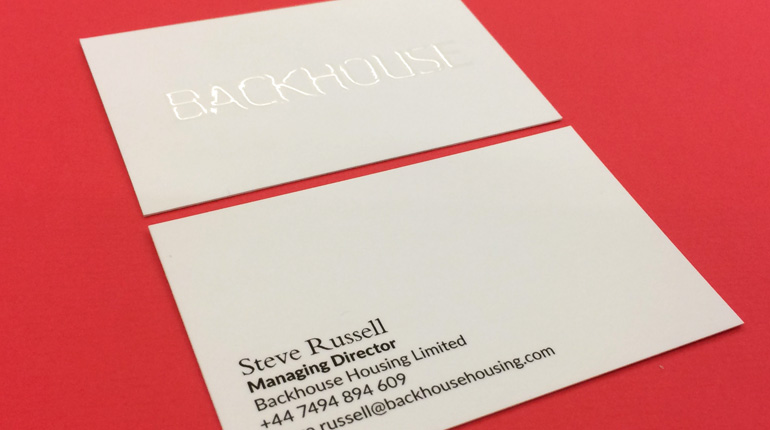 2.White Ink Business Cards
As many of you may know there is no white ink in the CMYK print process. Any white in the design is not printed and the white comes from the paper or substrate. With the ability to add white ink into the mix you can now print white on all different colour business cards. This can also now be done very cheaply with the introduction of HP Indigo digital presses with white ink.
---
Emily Passmore, Graphic Designer
Printed Duplex Blu Raspberry Multiloft, White Ink Business Card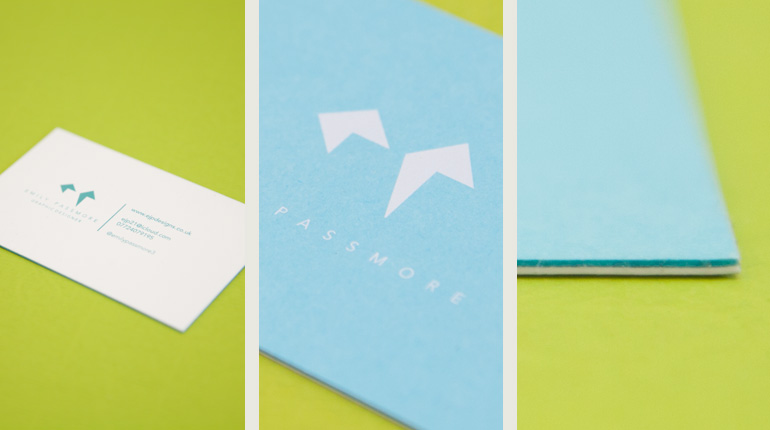 3. Laser Cut Business Cards
With the introduction of lasers into the print industry, this has opened up endless possibilities with engraving and laser cut business cards. Our sister company Brunel Print use a Motion Cutter this can create highly detailed intricate business cards.
---
Asset Media Air
Printed Triplex Blu Raspberry Multiloft, Motion Laser Cut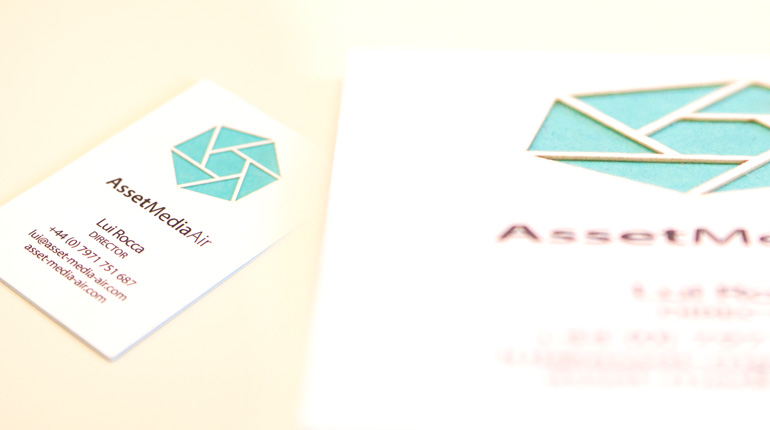 Kraft business cards have become extremely popular in 2016. We predict they will only become more popular when mixed with multi-layer card and laser cutting. With the introduction of  white ink this just fuels more possibilities and creativity.
---
Brunelone.com Sample
Printed on 100% Recycled 350gsm Brown Kraft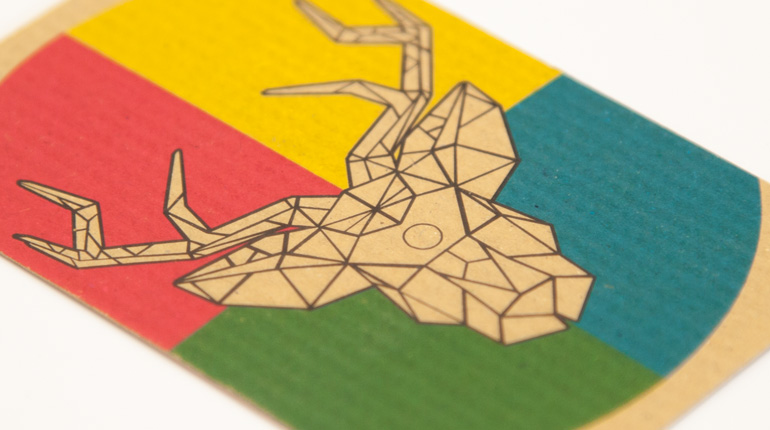 5. Metallic Business Cards
Best business cards 2017 will include specialist lamination like Derprosa. Metallics will play a big part. As you can see below, these really nicely designed metallic business cards have a layer of Derprosa laid onto the card then the colour is then printed onto the laminate, Scodix can also be added.
---

Refresh Holistics
Printed on 400gsm Card, Laminated with Derprosa, Soxdix.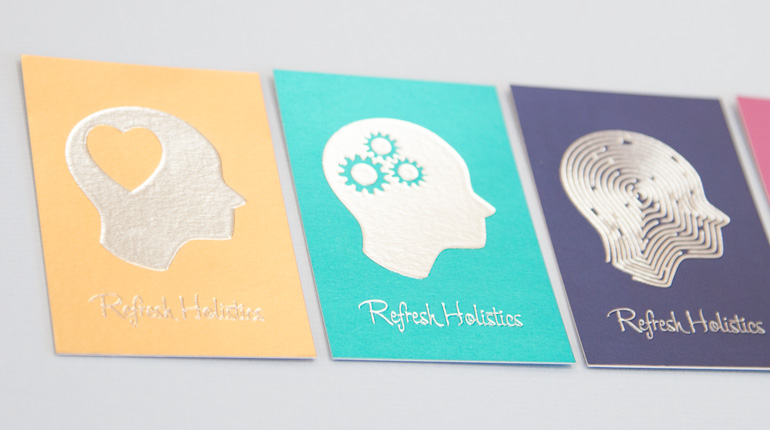 6. Posh Business Cards
Best business cards 2017 hast to include high-end textured card stocks. G.F Smith offer an extremely good range of high quality card stocks. In the example below you can see a beautifully cream textured cards, perfect for the more regal business card design.
---
Printed on 300gsm G.F Smith Accent Antique Magnolia.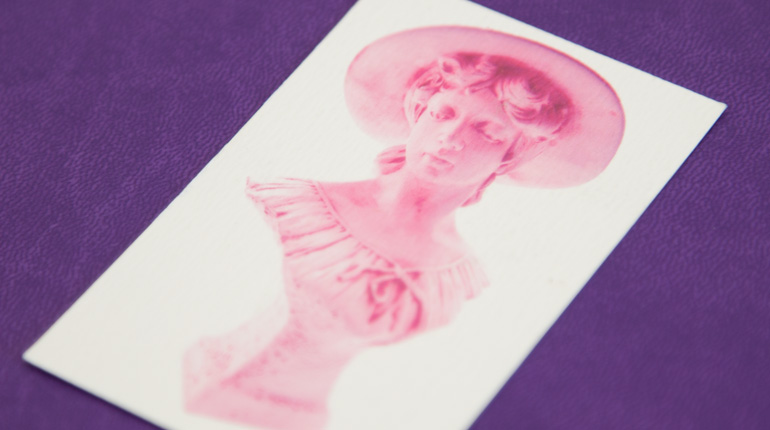 7. Gold Foil Business Cards
Foiling has been around for a long time and it is very expensive, but still look fantastic when mixed with modern design.
---
Stable Rise
Printed on 300gsm then duplex, gold foiled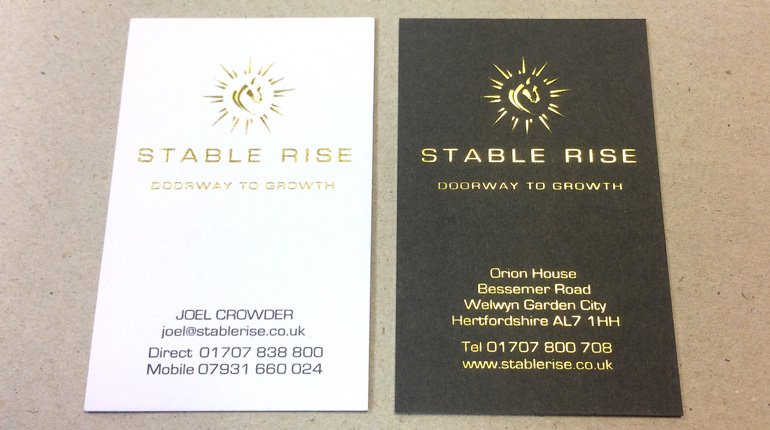 Best Business Cards 2017
2017 will be a year for high-end print finishing techniques – from laser cutting to 3d uv Scodix mixed with multi layer cards options and different laminations. For more information on business cards take a look at our website BrunelOne.com. For specialist finishes Scodix – white ink – and laser cutting visit Brunel Print.